Whale Watching Adventure Tours
Majestic Orca Whales in their Pristine Natural Environment
When you visit Quadra Island you're entering the heart of BC's Orca whale country. These beautiful giants pass through Discovery Passage throughout the year, feeding, socializing, playing and raising their young.
Various groups of Orca whales live in these waters. Occassionally you can even see a super clan of over 100 Orcas, made up of several groups of smaller whale clans.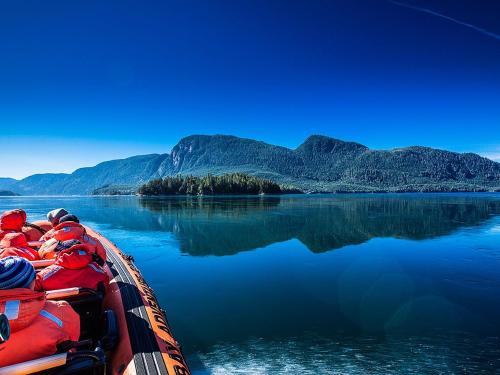 April Point's Quadra Island whale watching tour primarily focuses on the Johnstone Strait area, stopping at whale watching hot spots including Kelsey Bay, Sayward, and Robson Bight.
During certain times of the year we'll head into Nodales Channel, where you can see black bears on the beaches.
Vancouver Island Whale Watching
Duration: 5 ½ hours
$210 per adult
$160 per child (12 years & under)
Prices are in Canadian (CAD) currency and are exclusive of applicable taxes
Book Your Adventure Today! 250.285.2222 / 1.888.999.2799